YFA - Yachting Fullservice Agency
National Yachting School » Rent a boat » YFA - Yachting Fullservice Agency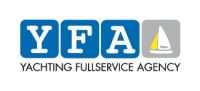 YFA is the only company in the Czech market engaged in providing entertainment and marketing services whilst taking advantage of sailing environments and potential. Their objective is to be a trustworthy and strong company that helps its clients achieve its firm and personal goals by the means of sailing.
More information about the company and the offer can be found on the website www.yfa.cz, contact person for corporate events is Mr. Paul Winkler.
News
Due to the coronavirus crisis, we are canceling all practical courses in Croatia until further notice. For new course dates, please keep an eye on our website.
In NYS we believe that there's no such a thing as winter in sailing and you can always find a good place to enjoy your hobby any time throught the year. So we offer popular winter courses again, this time on Canary Islands, starting from Tenerife because of the best flight connections.
The Royal Yachting Association (RYA) sailing qualifications have been voted the premiere sailing accreditation for excellence and global reputation following a recent survey targeting 200 professional yacht and motorboat charter companies. The professional charter companies that were surveyed own and manage in excess of 6,000 charter boats across the Mediterranean, Caribbean and Asia.