Sailing Courses, Skipper Licences - National Yachting School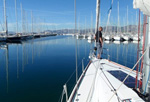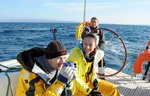 The National Yachting School (NYS) was founded in 2008, originally with the intend to provide top quality sailing courses and qualifications for yachtsmen and women in Czech Republic and Slovakia.
NYS Skola jachtingu Brno is recognised as a training centre by the RYA to provide instruction for Theory Courses.
Nowadays, we offer RYA certification courses together with a wide range of sailing cruises aimed to develop skipper's skills and experience for clients from all around the world. As a recognised RYA Training Centre we guarantee the top quality of our education, together with worldwide recognition of our certificates, which has been several times voted as the best sailing qualification. Our professionally trained and regularly examined instructors are also warranty of the best education and friendly attitude. On all of our courses we focus on the practical training and experience gaining – we believe that in times of need it is your skills what is going to help you, not a certificate. As so we offer most of the courses from RYA training scheme – from Competent Crew to Yachtmaster and Short Range VHF radio courses, together with a various types of educational holiday cruises – tidal training in Bretagne, catamaran experience in Greece, chance to sail to Morocco or cruise through the Mediterranean and part of Atlantic Ocean – from Croatia to Canary Islands.
We can also prepare an individual study plan for you, according to your sailing expectations. For bigger groups we can organize all types of courses or cruises in desired dates.
We believe we can find the right course for total beginner as well as an experienced skipper.
We look forward to see you on board!
News
Due to the coronavirus crisis, we are canceling all practical courses in Croatia until further notice. For new course dates, please keep an eye on our website.
In NYS we believe that there's no such a thing as winter in sailing and you can always find a good place to enjoy your hobby any time throught the year. So we offer popular winter courses again, this time on Canary Islands, starting from Tenerife because of the best flight connections.
The Royal Yachting Association (RYA) sailing qualifications have been voted the premiere sailing accreditation for excellence and global reputation following a recent survey targeting 200 professional yacht and motorboat charter companies. The professional charter companies that were surveyed own and manage in excess of 6,000 charter boats across the Mediterranean, Caribbean and Asia.